---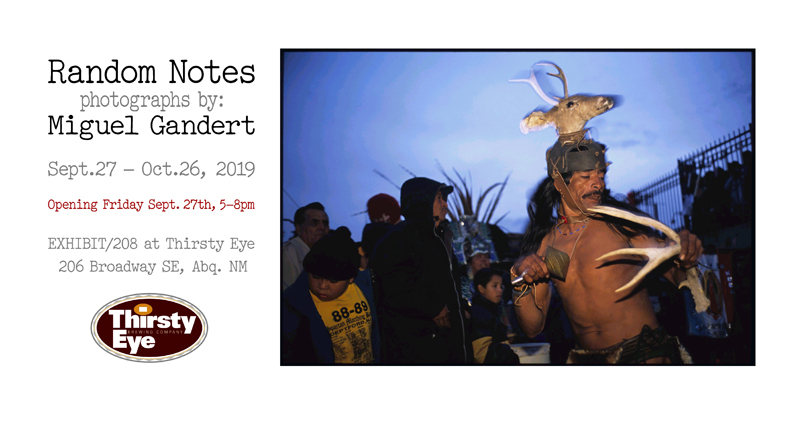 Miguel Gandert: Random Notes
Random Notes: photographs by Miguel Gandert

September 27 - October 26, 2019
Opening: Friday, Sept.27th, 5-8pm
EXHIBIT/208 at Thirsty Eye
206 Broadway SE, ABQ, NM
---
---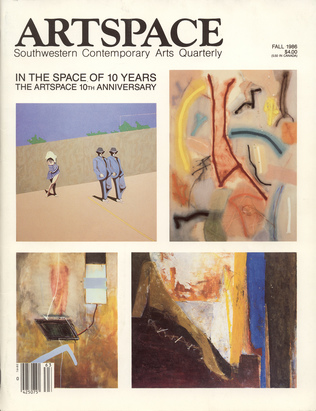 Artspace Magazine 40th Anniversary Exhibition
The ARTSPACE Magazine 40th Anniversary Exhibition​

Curated by William Peterson
Former Editor and Publisher
ARTSPACE Magazine

July 8 - 30, 2016

Gala Opening: July 8, 5 - 8 pm
Panel Discussion: Saturday, July 9, 1 pm
Artists included in the exhibit:
Nick Abdalla
Jane Abrams
Russell Adams
Garo Antreasian
Timothy App
Terry Conway
Andrew Dasberg
Constance deJong
Allan Graham
Gloria Graham
Ellen Feinberg
Richard Hogan
Luis Jimenez
Carl Johansen
Aaron Karp
Susan Linnell
Reg Loving
Bruce Lowney
Felice Lucero
Lucy Maki
Eugene Newman
Jaune Quick-to-See Smith
Gail & Zachariah Rieke
Ken Saville
Sam Scott
Richard Thompson
Greg Tucker
Jim Waid
Harold Joe Waldrum
John Wenger
Emmi Whitehorse
We extend our thanks to the Albuquerque Museum and to the many New Mexico collectors, who have graciously loaned artworks for this exhibition.
Celebration of the 40th anniversary of the founding of
ARTSPACE Magazine in Albuquerque, New Mexico
ARTSPACE was one of the best, and critically influential Art magazines in the country from its beginning in Albuquerque in 1976, and continuing in Los Angeles through 1996.
ARTSPACE's 20 years of writing and critical essays are still some of the finest ever produced on contemporary art in our region. The first ten years focused on New Mexico, Arizona, Colorado and Texas.
William Peterson's direction as the ARTSPACE editor and publisher was crucial in making our New Mexico contemporary art community what it is today. The purpose of the exhibition is to acknowledge the vitality of a creative community that gave impetus for founding an informed critical journal in July 1976. ARTSPACE provided insight and documentation, and widely disseminated discussion of the community's accomplishments.
Artworks included in the show are pieces that were written about in ARTSPACE magazine during its first 10 years from 1976-1986. Many of these works have not been publicly displayed since they were collected over 40 years ago. The show celebrates the vitality and creative expression of our New Mexico art community which, as the magazine showcased for the first 10 years, is second to none. EXHIBIT/208 is home to many of our local Albuquerque artists, whose careers began on the pages of this incredible magazine. Along with ARTSPACE, we celebrate the community of talented artists who live and work in this great city; for many, their roots and the history of contemporary art were honored on the pages of this historic magazine.
EXHIBIT/208 has assembled works from private collections and public institutions to produce an exhibit recounting the impact and history of this influential publication. ARTSPACE was intrinsic to cultivating the definition of Contemporary Art, and to highlighting and establishing the careers of respected artists of this region. Its legacy of showcasing critically acclaimed Contemporary Art from the Southwest for 20 years has proven influential to the contemporary art scene that exists today. Through this exhibition, we acknowledge the tremendous contribution ARTSPACE provided to our community, then and now.